Students will be inside this morning due to the Rain. Kindergarten and 2nd grade students go to the GYM, 1st grade enter the Main front doors.

Important Reminder! Students will stay outside in the morning starting today. The bell to enter the building rings at 8:10. Please make sure they are dressed with coats for the morning. Breakfast starts at 7:47 in the commons for k-2. Kindergarten is on the back playground, 1st and 2nd are on their designated area oft he upper east playground. Pre-school will enter via the Main doors at 8:25.

Reminder today is an early dismissal day. Kindergarten 1 pm, 1st & 2nd 1:10 pm. No after school clubs today.

No School tomorrow, Feb. 16, Due to inclement weather conditions.

Due to inclement weather there will be no School tomorrow, Monday, Feb. 15.

Monday, February 8th will be a 2 hr late start due to weather. No AM Pre-School.

We will have a late 2-hr late start this morning due to the weather. School will start at 10:10 with no AM Preschool.

School is cancelled for tomorrow Tuesday, January 26 due to Winter Weather. Wednesday will now be a full day for all students. Preschool will be in attendance on Wednesday.

School is cancelled Tomorrow, Monday, January 25th due to winter weather.

No School Tomorrow, Friday January 15 due to the blizzard warning.

Reminder that this Wednesday, Jan. 13th will be an early dismissal. Kindergarten 1:00pm, 1-2 at 1:10pm, No AM/PM Preschool.

Thad Horner represented Northside and presented the food bank with a $500 gift from all Northside students. Have a happy Christmas and Holiday season.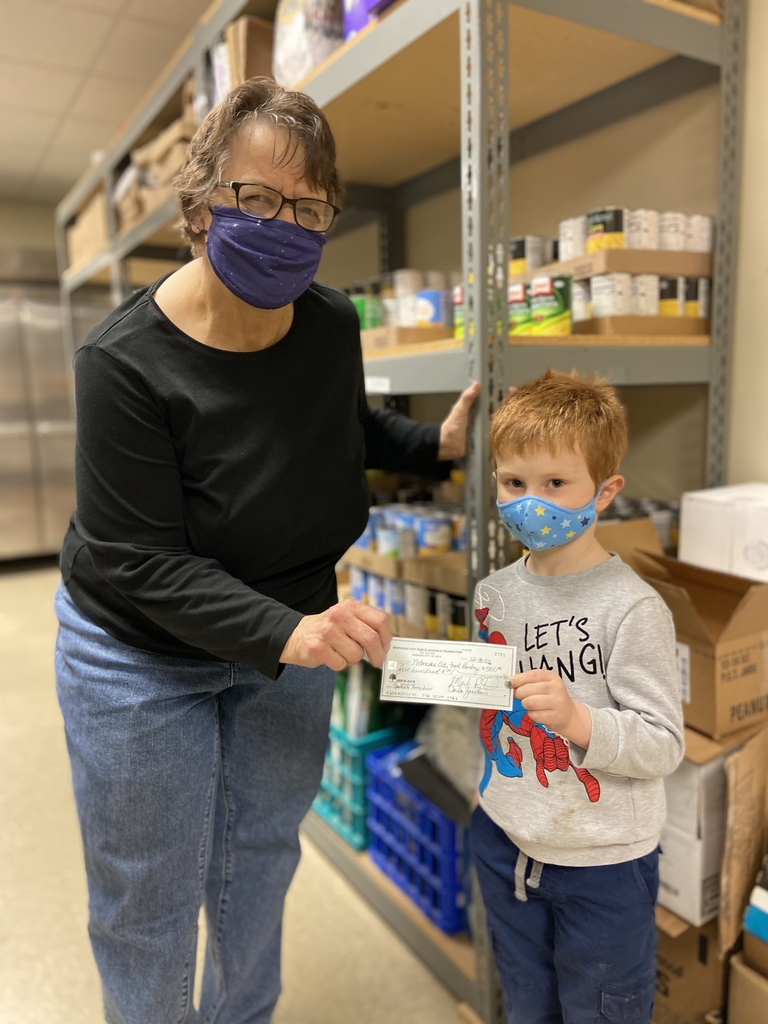 Nebraska City Elementary Families - Pledging is STILL OPEN and will remain open through Tuesday, November 3 for the Pioneers on the Move fundraising program. We are only $1,600 away from reaching our goal of $20,000 to be used towards outdoor classroom tables at Hayward and an indoor rock climbing wall at Northside. I challenge you to think of ONE more family or friend that might be willing to support the school. Donations can be made online at FunRun.com or by sending the donation to school with your student. Thank you so much for your support during the Pioneers on the Move program! Your students had a blast in the Dance Fit events last week! Have a good evening. GO PIONEERS!

Reminder that NCPS is in "Orange" this week with A-K on Wednesday and Friday and L-Z on Thursday. A-K/L-Z is determined by last name of the youngest school aged sibling in the house. All COVID-19 information can be found on our website at
www.nebcityps.org
.

Northside families please utilize this link to access a letter about a COVID-19 related issue at Northside today, October 9, 2020.
https://bit.ly/30QlmX3

Wednesday, Sept. 30 Dismissal & Conferences Just a reminder that Northside students will dismiss early today. Kindergarten starting at 1:00pm and 1 & 2 dismiss at 1:10pm. Busses leave Northside at 1:10pm. There aren't After school clubs today. Conferences begin at 3:30pm. Kindergarten guardians please enter the north playground doors, 1st grade guardians the front entrance doors and 2nd grade guardians the upper East playground doors. Masks are required in the building, please no children or students, 2 adults only per conference. Thank you

Northside families please utilize this link to access a letter about a COVID-19 related issue at Northside today. The letter will also be sent home with all students tomorrow, Sept. 30.
https://bit.ly/3ilS2h2

Reminder that there is no school tomorrow, Monday, Sept. 7th. Northside will be operating in Yellow Tier 2 for the week of Sept. 8-11th.

Afterschool Club registration forms were sent home today with 1 & 2nd grade students. Clubs will be limited to 40 total participants from 1 & 2nd for the 1st Semester. Forms need to be returned on Tuesday, Sept. 8th. Spanish Version -
https://bit.ly/357P3pa

Northside Families. Today we are releasing some specific information about how Northside will operate at the different tiers based on the district opening document that all schools will be following. District Opening Guidance -
https://bit.ly/2C4UJV3
Northside Operating Guidance -
https://bit.ly/2DHQC1o